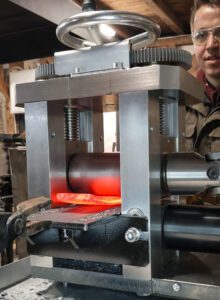 The passaround is aimed at providing an easy opportunity to test the rolling mill RM-1 in your own workshop in order to get an opinion about its usefulness for your application. The passaround takes place starting March 2023. Each participant has about 2 weeks of time to test all aspects of the machine, before it get sent to the next participant. The exact schedule will be worked out with all participants after the registration is closed.
The fee to participate is estimated to 150€ plus VAT, which is only used to cover the freight costs between the participants. After the passaround is finished, a transparent final invoice is sent to each participant that only accounts for the actual costs that occurred. If applicable, a refund is issued to the participants.
Are you interested in participating in the passaround? Please read and accept the conditions in the Sign-up form and return it signed. The registration deadline is March 07, 2023. Every participant gets a registration confirmation. In case of any questions, please contact me, I am happy to help!